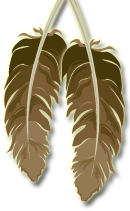 FAQ
Do I need a guide to hunt on the Rosebud Reservation?
Non-Tribal Members are required to have a registered Tribal Member Guide in order to hunt Tribal lands on the Rosebud Indian Reservation. Non members without a guide will be guilty of trespassing. Non members that engaging in fishing only do not need a guide. See Resolution 2001-173 for more information. Affiliated Tribal Members (ATMs) may require the use of a guide if they do not reside within our 5-county reservation boundaries. See Resolution 2005-150 for more information on ATM requirements and regulations.
Are there any other exceptions to the guide requirement?
Yes, there are other exceptions. See Resolution 2001-173 for more information.
What forms of payment are accepted for licenses?
The Department accepts credit/debit cards, money orders and cashier's checks for payment of hunting licenses and fees. Personal checks and cash are NOT accepted. At this time, credit card payments are not available to purchase buffalo (bison) meat.
Where is the Rosebud Sioux Indian Reservation located?
The Rosebud Reservation is located in south central South Dakota along the South Dakota - Nebraska state line. The Reservation has just under a million acres of Tribal lands spread across Todd, Mellette, Tripp, Lyman and Gregory Counties.
What hunting seasons are available on the Rosebud Reservation?
The Rosebud Sioux Tribe offers a variety of hunting options throughout the year. Spring turkey hunting occurs in April and May. Prairie dog season occurs April through September. Upland birds and waterfowl seasons occur September through December. Trophy elk season, Archery Elk and antlerless elk seasons occur during September and October. Antelope season occurs during October. Archery deer and muzzleloader deer season occur during October and December. Rifle deer and special mule deer seasons occur during November. Fall turkey season occurs October through December. Buffalo may be hunted throughout the year. See our 2016 Fall Hunting Schedule for season dates and prices (Spring Turkey and Prairie Dog Seasons occur earlier but click on them to see last year's announcements).
What permits do I need to hunt on the Rosebud Reservation?
To hunt tribal land within the Rosebud Reservation, you will need a Rosebud Sioux Tribe General Hunting License and Rosebud Sioux Tribe tags specific to the season you are hunting. State licenses and tags are not needed to hunt tribal lands. But, state licenses and tags are needed to hunt state land within the Rosebud Reservation boundaries.
What lodging accommodations are available?
| | | |
| --- | --- | --- |
| Burke, SD | Hillcrest Motel | 605-775-2654 |
| Gregory, SD | Gray House Inn Motel | 605-835-8644 |
| Mission, SD | Antelope Country Inn | 605-856-2371 |
| Mission, SD | Maverick Motel | 605-856-4560 |
| Valentine, NE | Comfort Inn | 402-376-3300 |
| Valentine, NE | Holiday Inn Express | 402-376-3000 |
| Valentine, NE | Raine Motel | 402-376-2030 |
| Valentine, NE | Super 8 Motel | 402-376-1250 |
| Valentine, NE | Trade Winds Lodge | 402-376-1600 |
| Winner, SD | Buffalo Trail Motel | 605-842-2212 |
| Winner, SD | Country Club Motel | 605-842-1866 |
| Winner, SD | Dakota Inn | 605-842-1440 |
| Winner, SD | Holiday Inn Express | 605-842-2255 |
| Winner, SD | Winner West Side Motel | 800-874-1504 |
| NE/SD State Line | Rosebud Casino Quality Inn | 877-521-9913 |
Why is western Todd County closed to non-member big game hunting during November and December?

What is western Todd County defined as?
Western Todd County is defined as south of Highway 18, west of BIA 5 and 7, north of Little White River, and east of Bennett County.
When is the drawing deadline for big game applications?
The deadline has already passed but there are leftover tags available